Published on:
September 12, 2023
Storms & Flooding
Hong Kong and China Black Rainstorm
Hong Kong, Macau & Southern China
Black rainstorm signal
07 September, 2023
---
On 7th September, Hong Kong and the Pearl River Delta experienced heavy rainstorms caused by the remnants of Typhoon Haikui. The Hong Kong Observatory (HKO) issued a flood warning for the Northern New Territories and at 11:05 pm issued a Black rainstorm signal, the highest warning level for flooding.
On 8th September, the rainfall continued into the morning causing widespread flooding in low-lying areas of Hong Kong, including the streets of Central, Causeway Bay and Wong Tai Sin.  Over 100,000 homes and businesses in Hong Kong lost power and the flooding caused landslides in mountainous areas of Hong Kong, blocking roads and cutting off access to some villages, for example, the landside in Shau Kei Wan.
Several subway stations were flooded and the transport services in Hong Kong have been severely disrupted, with flights cancelled and ferry services suspended.  The stock market also came to a halt in trading on Friday morning.
This is Hong Kong's heaviest rainstorm since records began in 1884.  Bloomberg Intelligence has estimated that it could cost the city more than $100 million.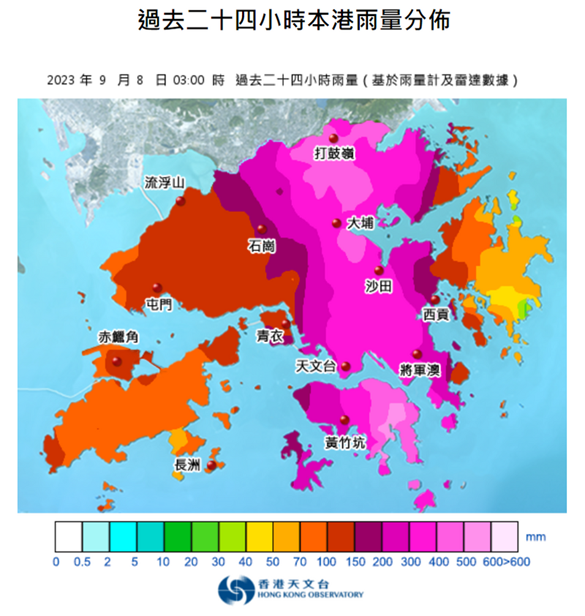 ---
Business Interruption Coverage Issues
Flood is normally covered by most policies in Hong Kong. However, the following issues might come into play:
Government assistance considerations
Prevention of access – inability to access businesses due to the closure of roads
Property damage to local businesses
Public utilities – damage to providers of electricity, gas, sewage, and telecommunications
Closure of premises by public authority – closure or evacuation of Insured premises
Losses resulting from supply chain issues
Early involvement of the appropriate experts can help with the need for any mitigation efforts.
MDD has considerable expertise in dealing with these types of claims and the complexities that may occur.  Experts like those of us at MDD will stress the need for proper audit protocols, controlling and sorting of costs and accounting for any potential saved expenses.
Contact a member of our local team below to discuss your needs.