Claim Considerations Related to the Beirut Port Explosion – Part 1
12 August, 2020

EMEA
In this two-part series, we write about the claim considerations related to the Beirut port explosion on 4 August 2020.
On 4 August 2020 at approximately 18:00 local time, an explosion measuring 3.3 on the Richter scale ripped through Beirut with mushroom cloud shockwaves causing damage for several kilometres around.
Lebanon was my last business trip prior to the COVID-19 lockdown in February. I was dealing with a Political Violence Business Interruption claim, following the protests which took place in October 2019.  Whilst the current concentration is obviously on the terrible loss of life and immediate humanitarian concerns, the Beirut Port explosion comes at a time when the country was already reeling from political and economic instability, and the effects of COVID-19.
Lebanon is heavily reliant on imports, which means supply chains are likely to be severely impacted.  It is not just the capital city that will suffer the immediate consequences.  The explosion destroyed 120,000 tonnes of silo capacity for grains such as wheat, corn and barley and impacted critical port infrastructure at both cargo and container terminals.  While the port of Tripoli may assist in mitigating the loss of the port in Beirut, it is considerably smaller and will be limited in its ability to mitigate the issues.  This incident is therefore expected to give rise to a number of claims in the Ports & Terminals and Logistics industries.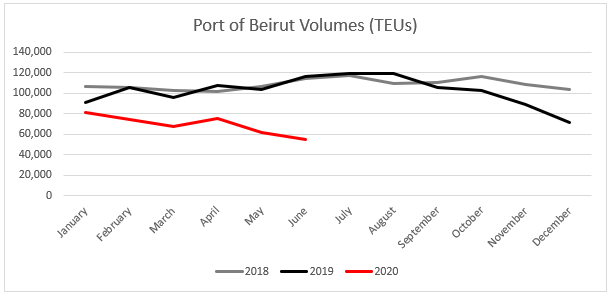 In addition to container terminals, the port is home to bulk and cargo services which are expected to be heavily impacted.  Analysis of Historical TEU (twenty-foot equivalent unit) volume data demonstrates the evidence of the economic difficulties in the fourth quarter of 2019, with the impact of Covid-19 further contributing to this decline in the first half of 2020.  Awareness of all these factors will be critical during the review of claims arising from the explosion.
Increases in Covid-19 cases just prior to this incident prompted a lockdown from 30 July to 3 August and 6 to 10 August entailing the closure of most businesses and private institutions. It is likely that this would have impacted many companies regardless of the explosion and will need to be factored into business interruption ("BI") and/or other economic loss projections.
As the graph below shows, Covid-19 also unsurprisingly had a significant effect on Lebanon's tourist industry, with arrivals halted in March 2020 following a large number of imported cases from Iran.  The impact of the political instability from October can also be seen.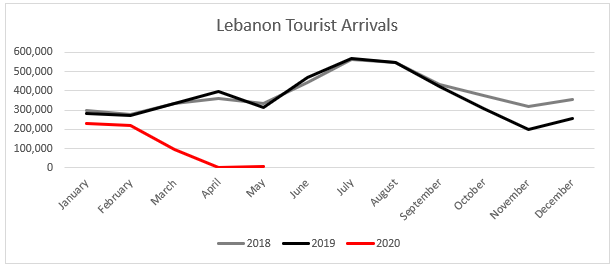 The impact of the political instability from October can also be seen with tourist arrivals falling significantly.  The impact can also be seen with hotels significantly reducing room rates.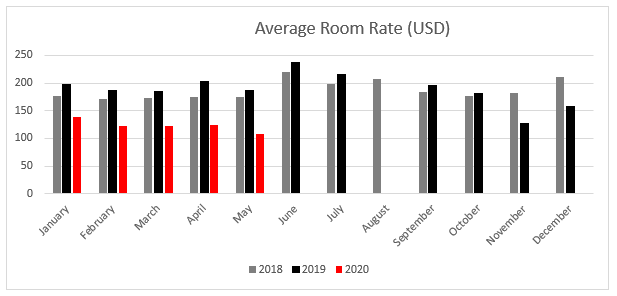 Commercial air travel into Rafic Hariri International Airport (BEY) recommenced on 1 July 2020 with limited flights and entry restrictions including pre-testing for COVID-19.
These aspects clearly need to be considered when measuring BI claims and other economic losses in the tourism and leisure industries, along with socioeconomic conditions.
Sources
https://www.aljazeera.com/news/2020/08/officials-knew-danger-beirut-port-years-200805032416684.html
https://www.aljazeera.com/news/2020/08/lebanon-eyes-state-emergency-deadly-beirut-blast-live-200804234925493.html
https://brite.blominvestbank.com/series/Total-Visitor-Arrivals-to-Lebanon-4401/
https://brite.blominvestbank.com/category/Hotel-Performance-EY-1401/
https://brite.blominvestbank.com/series/Port-of-Beirut-Volumes-3102/
https://www.arabianbusiness.com/politics-economics/450161-imf-bailout-may-be-half-what-lebanon-sought-when-aid-talks-began
https://english.alarabiya.net/en/News/middle-east/2020/03/17/Time-to-negotiate-Lebanon-officially-defaults-on-its-Eurobonds
https://lb.usembassy.gov/covid-19-information/
Articles
Relevant Articles
Our experts are extremely knowledgeable about thier subject areas and often write educational material and commentary on topical issues they come across.