Property Damage and Derechos
13 July, 2023

USA
On 29th June 2023, a rare type of storm called a "derecho" swept across the Midwest region of the United States, mostly impacting the states of Missouri, Illinois and Iowa.
The derecho began as a rotating supercell thunderstorm that spawned a tornado and then stretched across the Midwest, producing large hail, severe thunderstorms, and damaging wind gusts. Five confirmed tornados touched down in Illinois. One tornado was classified as an EF-2 which is considered a strong tornado, while the other four were determined to be EF-1 which is considered a moderate tornado.  The storm caused over a half-million customers to lose power across four states, with winds estimated as high as 120mph. Toppled powerlines, tree damage, fields of crops, and roof damage to buildings and homes have been reported. There is no estimate of damage at this time.
MDD has been helping clients with losses arising from this storm and assignments received to date have been in the retail, agricultural, food and beverage, automotive and hospitality sectors.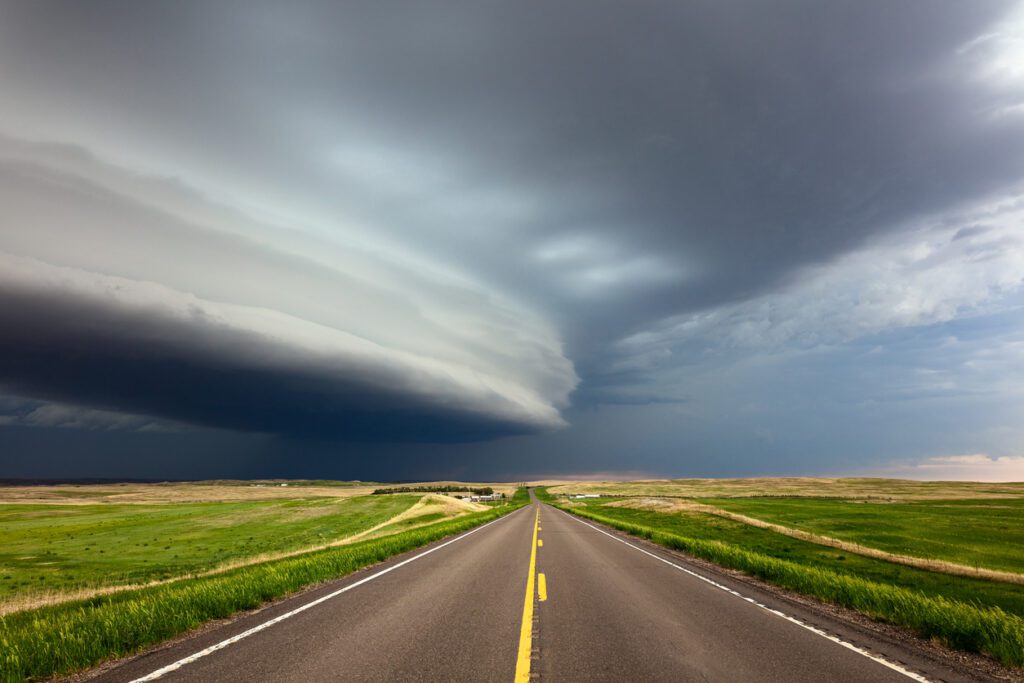 What is a Derecho?
If you've never heard of this type of storm, a derecho (pronounced deh-REY-cho) is characterised as a widespread, long-lived and straight-line wind storm that is associated with a fast-moving group of severe thunderstorms.  A band of storm that travels more than 240 miles and has gusts of wind over 58mph (winds of 74 to 95mph are the equivalent of a Category 1 hurricane), is considered to be a derecho.
As you can see from the photo above, visually these storms look rather menacing in the sky – they are walls of wind that make streaking patterns as they travel in a straight direction.  The term derecho actually means "straight ahead" in Spanish and the physics professor that gave this type of storm phenomenon the name back in 1888 wanted to distinguish the straight-moving winds from the swirling winds that are characteristic of hurricanes or tornados.  Derechos tend to occur in late spring and summer in the central and eastern US and can travel hundreds of miles, causing a wake of destruction that can be similar to that of tornados.
The image below shows how regularly they occur over large parts of the United States each year.
Derechos have also been seen in many other parts of the world, including Europe, Asia and South America.
Why are Derechos so destructive?
Derechos are so destructive because the winds within these storms can be as strong as a tornado and they can cause just as much damage to property.  In August 2020, a derecho caused catastrophic damage across Nebraska, Iowa, Illinois, Wisconsin and Indiana.  The storm caused widespread power outages and devastated crops and buildings in its path.  More than 20 million people across an area of just less than 100,000 square miles were affected.  It has been estimated that this particular storm caused $11 billion in damage, which places it among the top three costliest severe storms on record.
By way of another example, Pennsylvania and New Jersey experienced a derecho in June 2020 that killed four people and left nearly a million without power across the mid-Atlantic region.
How can MDD help following a Derecho?
MDD's trusted experts are on hand to assist. When we're retained, we mobilize our professionals so they can:
Review the company's operational financial records and perform a comparative analysis of the company's projected performance to its actual performance before, during and after the impacted period
Analyze industry data to determine the event's effect on profits
Examine non-loss-related events and conditions that may have affected actual sales during the impacted period
Calculate damages solely attributable to the incident
Verify original purchase dates and replacement dates of business personal property(including stock)
Conduct test counts to verify the reasonableness of stock levels
As always, please don't hesitate to get in touch with your local CAT Coordinator for assistance with losses resulting from storm damage. If you're unsure who to reach out to please see details of MDD's CAT team on our Catastrophe Services page here.
Image via Dennis Cain – NOOA – derechoclimo.png (500×334) (noaa.gov)
Articles
Relevant Articles
Our experts are extremely knowledgeable about thier subject areas and often write educational material and commentary on topical issues they come across.